Doing More With Max!
CAN ONE PAGE OF A BSE ASSESSMENT BRING SOMEONE TO LIFE? The Answer is YES!
A few years ago, we did a BSE Assessment for the MAX Service Group. At the time, they were not called the MAX Service Group, they were the WCA Group because the word MAX was not yet connected to their business identity. They were 4 separate brands. However, when one of their company leaders traveled to our Brand Story Experts "All In Event" in Key West – he returned from the event very confident that we could help the WCA Group start a game-changing, story celebration. He was right.
We began the BSE Assessment Process shortly after the event and through it we identified their most inspiring aspects, clarified a brand story summary, and presented recommended storylines for development.
We are taking a moment to highlight this case study because this month (April 2022) a piece of that plan came together when their brand character Max came to life as a Mascot! A mascot being created is not that unique. We have certainly helped clients to bring mascots to life in the past. However, the real story is how the completion of this mascot puts a punctuation point on the impact that just one BSE assessment page can make! That is what we are celebrating.
At the time when we did the assessment in 2019, the WCA Group had 4 brands: Williams Comfort Air, Mr. Plumber, Jarboe's, Thomas & Galbraith.
It's very important to state that all 4 of these brands are still and have always been part of a tremendously well-run machine. They also have a highly capable marketing director who is tremendously organized, awesome at SEO, and worked with our team to ensure that the BSE assessment plan and recommendations were executed. Yes, the whole company is filled with fantastic, hard-working individuals. In fact, the organization performs and functions as well as any home service company in the world. However, they recognized that they needed assistance in clarifying their story and our brand assessment uncovered a gold mine of opportunities.
One of the biggest opportunity areas was that the brands had inconsistent messaging. Another area where we uncovered a disconnect was that the company seemingly emphasized its biggest brand (WCA) and it wasn't making a positive impact on morale. Another finding (that was actually featured in BSE President, Kelly Keenan's book, Everyone Is An Influencer ) was the way the BSE impression analysis helped illustrate how the brand's enormous community involvement was going unnoticed.
On the very positive side, the 4 assessment results (one per brand) illustrated a strong synergy in the way they operated. The impression analysis impressively outlined a similar brand reputation in operations.
Through the assessment process, the road to progress and a brand celebration started to become clear. While we won't share the entire assessment, we did want to show the impact that just ONE PAGE has made on the company and the culture.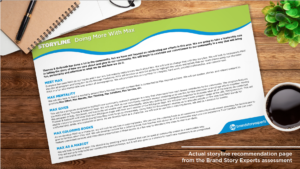 The "Doing More With Max" storyline is just one of the three storylines that we presented to the WCA Group. In fact, the "Doing More With Max" storyline sheet you'll see is the actual plan that was presented during the assessment results presentation.
This is a storyline that was specifically developed because the results indicated that the brands had a great opportunity to capitalize on the amazing way the teams of all 4 brands were working together in a phenomenal way. Yes, they were killing it in a similar fashion and operationally they were together, they just needed a plan to celebrate these feats in an inclusive manner.
In the recap photos, you'll see some examples of what our BSE team recommended and executed. You'll also see how cool it can be to clarify your vision with subtle changes that make an enormous impact.
First, as the name of the storyline indicates, we saw the need to do "More with Max" as we identified their brand character as an opportunity. We saw that 3 of the 4 brands had a character in their logo but the biggest brand (Williams Comfort Air) did not. We suggested putting the mascot to the forefront of the brand and adding the mascot to the WCA brand.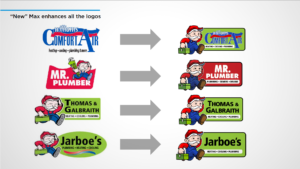 Next, we learned that one of the brands referred to the mascot internally as Max. We did not see them promoting the name or showcasing a personality, but he did have a name. We saw the opportunity for Max to be well known with a personality that could be promoted across all brands. We suggested that Max be featured by name as the main messenger. We also suggested that in order to go beyond the name, we needed to create Max's story to tie him into the brand's story and its attributes. So, we wrote his story and it was approved.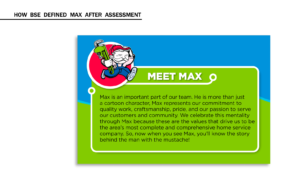 Going further, we knew that if we were going to be "Doing More With Max" as the assessment storyline title promised, then we needed to make him a little more presentable. We needed to create a "New" Max! So, we worked hard to give him a new look that opened his eyes, freshened up his vibe, and got him ready to be a star! It was not an easy process but as you'll see in some of the photos, it was cool to see him come to life.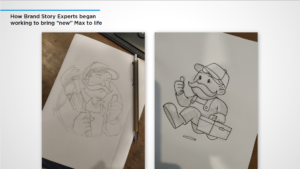 Then for social media promotion of this storyline, you'll see on the presentation page that we recommended promoting a "Max Mentality." We started posting quotes and mindset alignment posts for Max back in 2019 and the Max Service Group marketing team is still doing it today, as you'll find it on any of their Facebook or Instagram pages.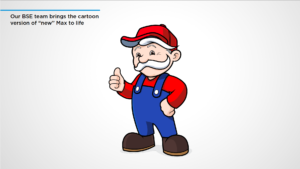 One of the biggest things is helping to put a recognizable name and program together for the company's community efforts. The storyline recommendation to clarify their community efforts with a MAX Gives initiative. We picked up MaxGives.com as a URL in the assessment phase to have it, we created a logo, designed the program landing page, and set up a framework for community events promotion. The company is fortunate enough to have a fantastic community outreach program and an awesome marketing team executing programs and events and we are thrilled that they can now highlight them through the MaxGives program.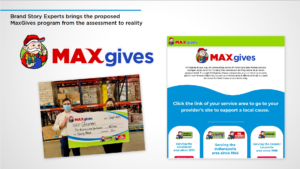 Still on the "Doing More With Max" storyline page, you'll find a coloring book recommendation. The book features Max and BSE wrote and designed the content to educate kids (and parents) about the company and trades. This was executed with a coloring book contest and we love seeing the new Max used in so many ways.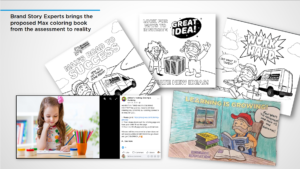 Finally, on the "Doing More With Max" storyline page you'll find a recommendation to make Max a real-life Mascot to be used at community events. While every other point on this page was executed within a year, this one took time. Covid-19 stopped the mascot and community events idea for a few years. So, Max the Mascot had to wait. However, as of April 2022… MAX THE MASCOT LIVES!!!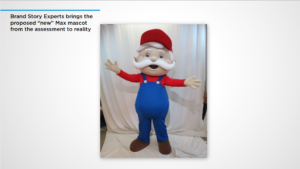 A very cool final note is that the MAX storyline worked so well, that the company agreed to our idea and recommendation to rename the whole group as the MAX SERVICE GROUP!
We have developed dozens and dozens of other ideas and initiatives outlined in our assessment for the MAX Service Group, and we are proud of the progress and transformation. But, our work isn't about us. It's about clarifying the most inspiring aspects of the brand and creating an inclusive plan to celebrate that newly uncovered, authentic story. That celebration involves the leadership, marketing team, sales, field personnel, customers, and even the community. It's everyone!
Great things happen when you engage in a partnership to uncover and celebrate your story. As we like to say, the Experience gets better for everyone! We are very proud of this 100% authentic example of the impact that can be made from just ONE page of a Brand Story Experts brand assessment!
#BrandStoryExperts
#BeAboutIt